I have always had to carve out a little corner in our living room for my desk to use as my "office space" for the blog.  Since it was a shared space, I needed my desk and its accessories to blend with my design and color scheme in the living room.   We recently moved and I now have my own office space and it is a blank canvas to create a bright and inspiring room to work.  I love a bright, crisp white room with splashes of colors, so I knew I wanted to go in that direction.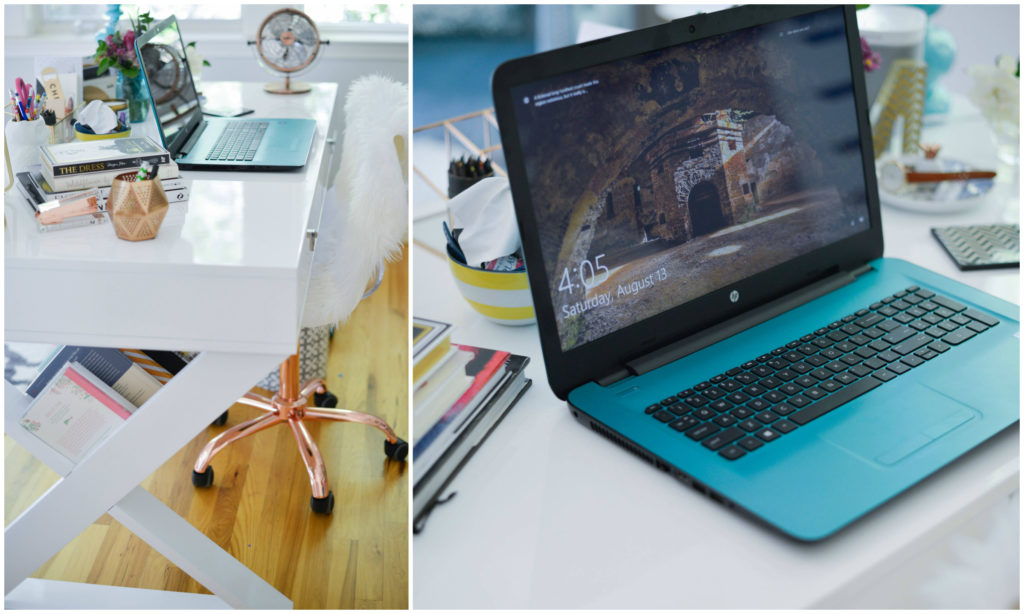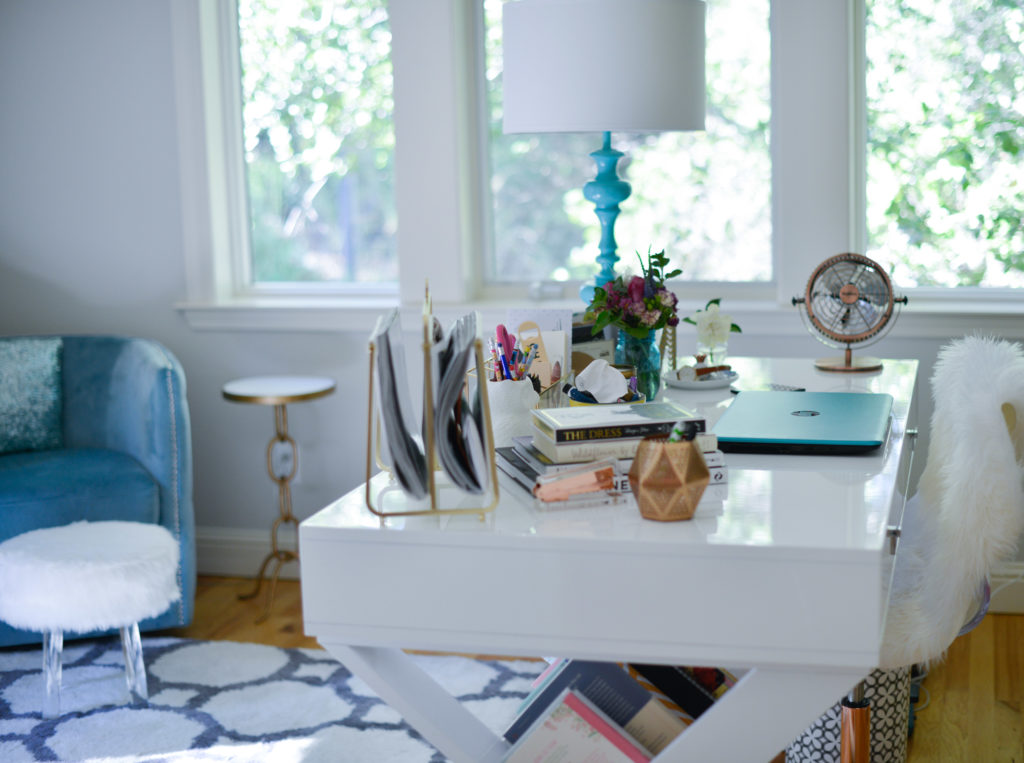 I think everyone knows I have a SMALL obsession with Rose Gold, so I have been finding accent pieces to scatter around the white office.  Rose Gold stapler, pencil cup, side table and desk fan – yes please!  Then I found the perfect teal chair from Home Goods, that is velvety soft, tufted and had nailhead accessories.  I was thrilled when HP and HSN wanted to partner with Savvy in San Francisco for their new colorful HP Laptops.  I was excited to be able to pick a laptop that not only had 2 TB of storage but came in a choice of five fun colors.  These laptops were the HSN deal of the day, but they still have the incredible savings currently (which is over 50% off).  The laptiops come in two sizes 15 and 17 inch screens.  We went with the 17 inch since we wouldn't be taking it anywhere and it would be used in the office (for me) or in the kitchen (for the kids).  The laptops are very lightweight for a 17.3 inch screen and they have a fun splash of color.  The HP Notebooks are available in blue, white, red teal and silver.  The teal color was the perfect compliment to our new office space.  Bright, clean and white with splashes of teal throughout.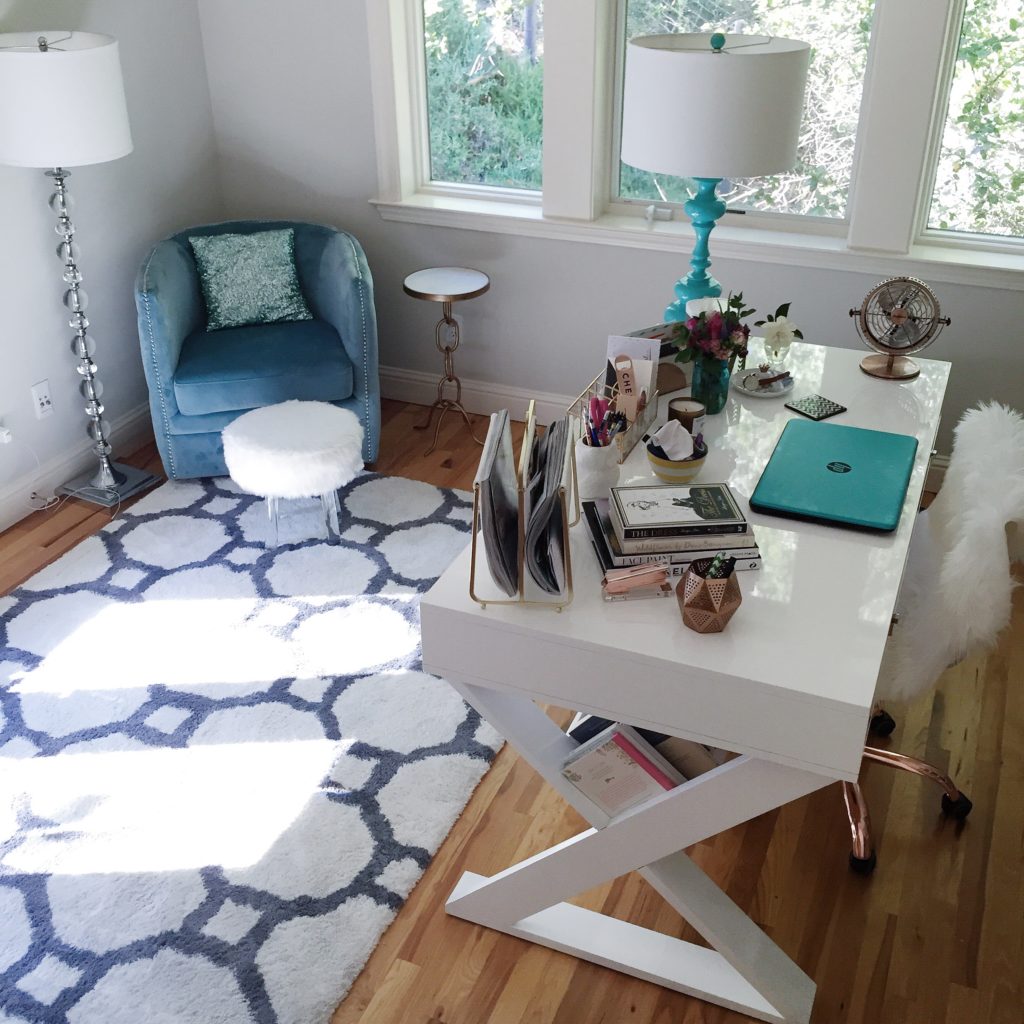 I knew that the teal color HP Notebook would look nice in our great room as well, so when the kids want to use it, I can set it up at our kitchen table.  With the 2 TB of storage and the Intel Pentium Processor we are able  to quickly move between multiple apps while storing all of our media in one place.  It's great for me to store my endless photographs that I take and for the kids to store their games.
Two of my favorite bloggers/vloggers that I love to follow, The Girls With Glasses, went on HSN to promote the HP Laptops.  The Girls With Glasses shared about their experience on HSN here which includes meeting fashion icon, Iris Apfel (swoon).
If you have your own office space or if you have carved a space out in your home for yourself to work, how do you make it your own?  What are your pops of color?  Which HP laptop would you choose to accessorize your home?
*This post is in partnership with HP with HSN and Collectively.  All opinions and thoughts are my own.  Thank you for supporting sponsored posts on Savvy in San Francisco.
Cheers,